In the spring of 2014, Alex Bastide, a well-known entrepreneur from the skate and music scene, opened his first restaurant with the help of partners: L'Gros Luxe, on St-André Street. With its range of affordable comfort food, vegetarian fare and generous cocktails garnished with delectable edibles — all in a relaxed, friendly atmosphere and charming old-world setting — success was pretty much instantaneous.
Two years later, the restaurant became a "victim" of its own success, barely able to accommodate the crowds of customers eager to eat at the establishment. It was time to move and a vacant space soon became the birthplace of Gros Luxe Version II. "I've always had the idea of ​​opening a 100 per cent veggie restaurant, being a vegetarian myself. It was a dream I'd been nurturing," says Alex. And so in July 2016, L'Gros Luxe 100% Végé was born.
People trust us, they know we're going to make things interesting, tasty, and even downright messy!– Alex Bastide, owner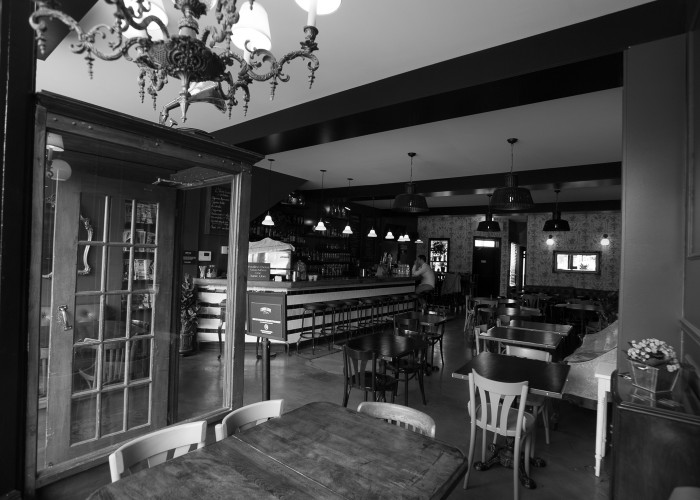 Comfort Food Vegetarian-Style
The new location has everything that gave the chain its reputation — comfort food, a lively atmosphere, friendly service, affordable prices and creative mixology, all with a fully vegetarian and 80 per cent vegan menu. "There's just nothing like it in Montreal. With vegetarian restaurants, it's always more of a calm atmosphere," says Alex.
Burgers, nachos, poutine, macaroni and cheese, grilled cheese and of course tacos and salads all feature on the menu at L'Gros Luxe 100% Végé. "Our dishes are popular because they're all classics reworked the L'Gros Luxe way, the gourmet way, by our chefs Maria Matevoysyan and Alana Kaufman," says Alex. "And all our prep happens here. We transform all the food ourselves. So when people eat our food, it really is the Gros Luxe signature taste."
On the bar side of things, there's wine, craft beer and spirits, but it's the cocktails that are the attention-grabbers. "We run our bar just like we run our kitchen. We make our mixers in-house. We give our chefs and mixologists a lot of slack; they've got a lot of creating to do," says Alex excitedly. At 100% Végé, Axel Boivin concocts sublime potions for the enjoyment of all the customers.
Vegetarian and Meat-Eating Customers
The clientele at L'Gros Luxe is very diverse, says Alex. "It's incredibly intergenerational. We get families, hipsters, students, young professionals of 25-35, professionals of 35-50, the uncles, the aunts, pensioners: everyone! It's absolutely amazing! We get Québec stars, TV artists, musicians, athletes, it's crazy. I can't even explain it."
As for 100% Végé, although it may host a varied crowd, the attraction isn't restricted to devoted vegetarians. "Here, we're going to pique people's interest, even (and especially) the ones who aren't open to vegetarianism," says Alex. "People trust us, they know we will make things interesting, tasty, and even downright messy! So they say they'll give it a try."
And to allow more people to enjoy its restaurants, L'Gros Luxe offers a mobile application with menus, updates and VIP waiting lists.
L'Gros Luxe — a truly luxurious comfort-food experience, vegetarian-style!
Source : https://www.yellowpages.ca/bio/Quebec/Montreal/L-Gros-Luxe-100-Vege/100730094.html?what=l%27gros+luxe&where=montreal